Our Doctors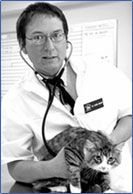 Dr. Daniel Meakin

Dr. Dan graduated from The Ohio State School of Veterinary Medicine and has been practicing veterinary medicine for 21 years. Dan says a strong drive to help animals-in-need and a passion for the biological sciences led him to become a vet. He specializes in orthopedic and soft tissue surgery, as well as exotic pets.

Raccoons, kinkajous, and reptiles are among his favorite animals – he says you can't just have one! If you were to visit the Meakin home, you would find 15 dogs, 7 cats, 4 pot-bellied pigs, 4 sheep, 3 goats, 2 tortoises, 1 kinkajou, 2 rabbits, 6 guinea pigs, 2 chinchillas, a rat, a packman frog, a bearded dragon, a red eared slider, 2 sugar gliders, 2 pigeons, and a goldfish (...and 5 kids!)

Dan doesn't believe in spare time. When he's not busy being a veterinarian, he enjoys working out, racquet sports and, as we all know, playing rock n' roll with his band, Dr. Dan and The Stray Dogs.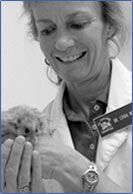 Dr. Linda Meakin

Dr. Linda graduated from Case Western University in Nursing, but then realized that her calling was in veterinary medicine. She received her Doctorate of Veterinary Medicine from The Ohio State University. Linda has a strong interest in preventative medicine and behavior therapy. Her expertise is in reproductive science, and she is an avid breeder of AKC-registered Hungarian Pulis.

Dr. Linda practices preventative medicine and advocates wellness in her own life, with daily jogs and a proper diet.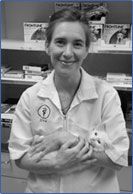 Dr. Kristine Raab

Dr. Raab is a graduate of the Louisiana State University of Veterinary Medicine. Her favorite aspects of veterinary medicine are preventative medicine and getting to know each pet and their family personally. Dr. Raab grew up around animals and loves a challenge and solving a good mystery. These combined interests made veterinary medicine a natural choice for her.

At home, she has cats, an aviary full of birds and a pack of wild chihuahuas. When she's not taking care of animals, she enjoys reading and running.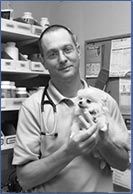 Dr. Mel Leap

A native of Northern Kentucky, Dr. Leap graduated from Auburn University College of Veterinary Medicine in 2008. He moved back to the Cincinnati-area after spending five years at a small animal clinic in Louisville, Kentucky followed by a year at a local emergency hospital. Dr. Leap enjoys country living on a small farm with his dog, Morgan, and three cats: Agustus McCray, Meow Pacino, and Memphis Slim. In his spare time, he enjoys astronomy, backpacking, working on the farm, and anything that keeps him outdoors.
Dr. Olson

Dr. Olson is from Ontario, Canada. For seven years, she worked as a land paramedic in Sudbury, Ontario; and, for a year prior to that, as a flight paramedic. She then went on to earn her degree in veterinary medicine from the University of Edinburgh, in Scotland. She holds a strong interest in exotics -, especially birds. She really enjoys soft tissue surgery and wants to expand her knowledge in endoscopy.
​​​​​​​
At home, Dr. Olson has a diverse brood of her own pets - a rescued Shih-Tzu mix, a 12-year-old Cockatiel, a 6-year-old Senegal Parrot, a 7-year-old Timneh African Grey & two Bearded Dragons. Outside of work, she enjoys crocheting, making toys for her birds, as well as other various do-it-yourself projects.
Dr. Stanley

Dr. Stanley is a proud West Virginia native. He attended the University of Georgia College of Veterinary Medicine. Before moving to Cincinnati in 2013, he practiced in Atlanta for two years. Dr. Stanley thoroughly enjoys working with all of his patients and getting to know their owners, as well. His special interests include emergency and internal medicine.

​​​​​​​Dr. Stanley is a husband and a father to his son. In his spare time, he enjoys spending time with his family & his two dogs, playing/watching sports, and being outdoors.