Grooming
"Amelia & Anderson locations only"
All Creatures Animal Hospital offers canine and feline grooming appointments at our Amelia and Anderson locations, as well as at our Eastside Kennels boarding facility.
Our Dog & Cat Grooming Services
Our Amelia, Anderson and Eastside Kennels locations are home to our bustling grooming departments. Think of the time you'll save by taking care of your pets grooming and medical needs at the same time!
Our Amelia location does grooming 7 days a week.
At Anderson, we groom 6 days a week.
At Eastside, we groom on Saturdays only.
Our team of professional groomers is trained in all styles and breeds, for cats, dogs as well as rabbits. Regular grooming restores luster to your dog's coat, removes uncomfortable tangles and matting, and replaces any odors with a fresh, natural scent. You'll be amazed by the transformation! All of our groomers can do show cuts, as well as breed-specific cuts.
​​​​​​​We recommend introducing your new puppy to grooming at an early age. The "puppy cut" is for puppies around 6-8 weeks of age and includes a bath, cleaning the face and paw pads, trimming nails and a light trim at an affordable price. Positive early experiences are essential for lifelong grooming in a stress-free environment.
Vaccine Requirements
To ensure your pet's safety, all boarded pets must be properly vaccinated and tested for diseases. We require the following things be done annually in order to board:



Rabies Vaccine

Bordetella Vaccine

DHLP-P Vaccine (at least the second booster for puppies)

Intestinal Parasite Fecal Exam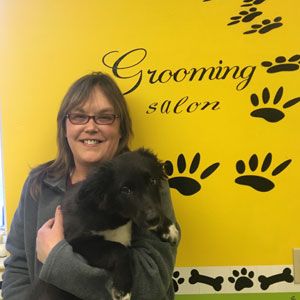 Laura

Laura Walker has been with All Creatures grooming for almost 2 years. She has been in the grooming industry for 25 years she started out bathing dogs in a grooming shop on the weekends when she was 15 and started to learn how to groom shortly after . She has experience in show cuts and all styles of hair cuts. Her favorite breed to groom is Poodles . She enjoys being challenged by creative grooming and learning new styles. She has 4 dogs of her own Cheetah , Lucy Lu , Grizzly Adams and Layla.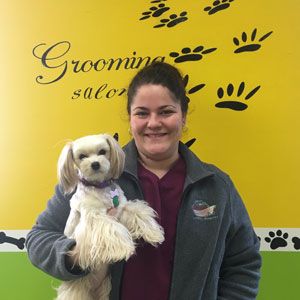 Danielle
Danielle Mains is a proud mom to her energetic 9-year old son, 5 very happy dogs, a sweet Maine coon cat and a Beta fish. Danielle has been professionally grooming for seven years, including Asian Fusion grooming styles. One of her Asian Fusion grooms was published in Modern Styles From Around the World, an International Grooming magazine. Danielle is a resident of Withamsville, Ohio, and has been an avid animal lover all her life.
Pet Grooming Package
Nail trim
Ear hair removal
Ear canal cleaning
Groin and rectum shave for hygiene
Haircut or style
Hand fluff drying
Scissoring
Conditioning cologne
Gland release
Recommended every 6-7 weeks
Want more? How about . . .
Bandannas or bows
Nail dremeling
Sedation if needed
Medicated shampoo if needed
Teeth brushing (with your brush and paste)
Furminating - pulls out excess undercoat & helps with shedding
Airbrush machine & pens to do designs - holidays, sports teams, etc.