Surgery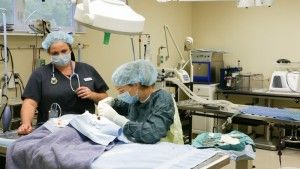 From routine to advanced, surgery is a cornerstone of care at All Creatures. Our doctors and technicians are highly-trained in anesthesia, sedation and critical care. We understand that it can be stressful to have your pet undergo surgery.
Rest assured that your pet is in the best possible hands, as we offer the safest inhaled anesthetics available, post-anesthetic monitoring and heat therapy for the fastest and safest recovery possible.
Our surgeons utilize advanced laser technology for procedures such as declawing and oral surgery. As opposed to traditional cutting instruments, using the laser does not affect surrounding tissue. It also helps reduce pain, swelling and recovery time.
Surgical Specialties:
Spay/Neuter
Cat Laser Declaw
Growth Removal
Soft Tissue Surgeries
Laser Surgery
Femoral Head Ostectomy
Pug Surgery
Bulldog Surgery
Gastropexy Bloat Surgery
Orthopedic Fracture Repair Surgery
Luxating Patella Surgery
Canine Knee (ACL) Surgery
Soft Palate (brachycephalic) Surgery
Surgeries for Exotic Pets
Emergency Surgery