Intermediate Training
Our Intermediate classes continue the positive reinforcement of the commands learned in Basic Training. Here, we will take it to the next level - challenging your dog by building command duration- so they can remain sitting, laying, staying, focusing, etc. for increasing amounts of time.

We will help you sharpen their powers of concentration, by practicing commands while increasing the distractions - such as bouncing balls, treats on the floor or other dogs walking around. Through practicing, your dog will learn to remain sitting in front of a treat, as you back up across the room and, even, out of sight! The relationship between you and your dog will be even further developed to achieve faster command responses and improved attention. Another skill learned will be to heel - remaining right by your side without tugging, matching your pace as you speed up, slow down, go up and down steps and do figure 8's.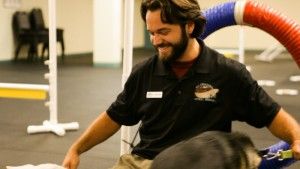 We will also learn new, complex, fun commands including go to bed, twirl, high five, push-ups and 'BANG!' - where you pretend to shoot them and they roll over and play dead.

Sessions are 1 hour long, and we meet once a week for 4 weeks. $99
​​​​​​​
To sign up, or for more information, please call us at 513-797-7387.